The 5 Key RPA Trends To Watch For in 2022
The RPA market is growing exponentially and is expected to reach ~13.4B in 2030, rising from ~2B in 2021. In turn, RPA use cases are expanding in different industries and business functions, creating new opportunities for novel applications and trends.
In this article, we explore the top RPA trends to watch for in 2022, and how businesses can exploit these trends in their digital transformation journey.
1. Adopt an RPA Center of Excellence
With more RPA automatable tasks among different business functions, including HR, IT, and customer service, businesses are moving towards migrating their RPA functions to a single center of excellence (CoE) to tackle all RPA related tasks. RPA CoEs can help businesses develop an organization-wide RPA strategy, as well as scale, standardize, and customize their RPA solutions.
See our article about RPA CoE for more details about building a successful RPA center of excellence.
2. Integrate RPA with different technologies
3. Turn to RPA-focused MSPs
Due to RPA adoption cost (e.g. 5k-15k per bot/year), and extended time to solution roll-out, businesses are turning to managed service providers (MSPs) which offer RPA as a service to outsource their automation tasks. MSPs can provide businesses with automation capabilities without needing any RPA infrastructure or training, and at reduced prices in the short term.
So far, only 5% of MSPs provide RPA as a Service to their partners. However, it is estimated that RPA will become an embedded feature in many platforms, therefore, we expect more IT-oriented MSPs to provide RPA as one of their main services.
4. Embrace intelligent RPA
There has been an increase in interest in cognitive automation since 2014 as shown in Figure 1, and so far ~90% of C-level executives report that some level of intelligent automation already exists within their organizations. 
Figure 1. The rise in popularity of cognitive automation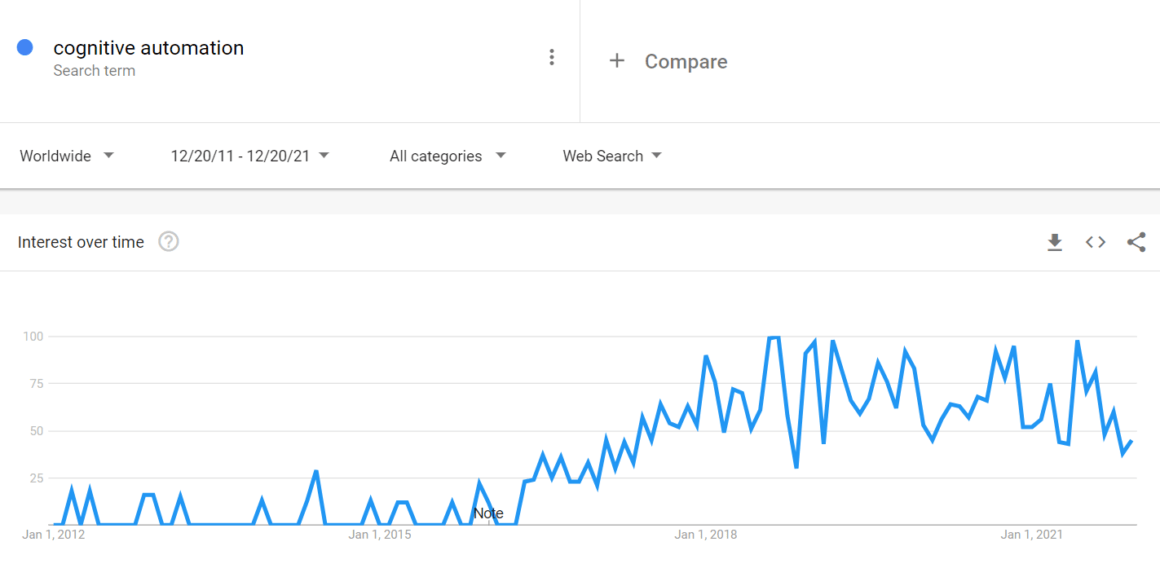 Intelligent RPA, also known as cognitive RPA, cognitive automation, semantic automation, or smart process automation (SPA), refers to augmenting RPA tools with AI and machine learning capabilities such as natural language processing (NLP), optical character recognition (OCR), and deep learning. Cognitive RPA enables businesses to automate not only repetitive rule-based tasks but predictions and forecasts based on structured and unstructured data.
We expect more adoption of cognitive RPA as spending on RPA and intelligent process automation is expected to reach ~$35B in 2023.
Additionally, organizations have reported in a recent Deloitte report that:
They expect to achieve increased productivity and cost reduction; greater accuracy; and an improved customer experience.
Cognitive RPA has already exceeded their expectations by 16-26%.
5. Automate cybersecurity measures with RPA
The rise in the number and cost of data breaches, ransomware, and cyber attacks has drawn more attention to cybersecurity technologies. RPA can be a major candidate to automate cybersecurity measures as it eliminates human intervention in privileged data processing, and can monitor and notify users of cyber attack threats. Nonetheless, RPA itself poses a cyber threat as it is prone to attacks and abuse of bot authorizations. Therefore, it is important to follow the best practices of RPA implementation to attain the best results and mitigate cyber threats.
Published By
AI Multiple